31 Fun Things To Do In Johannesburg Under R200
Everybody knows Joburgers love getting out and about … dare we say even more so than their southern peers? To help the city get even more social this summer we took on the challenge of finding fun things to do in Johannesburg … easy! Finding things to do on a budget … well it turns out suit central isn't always what it's made out to be, with a whole host of inexpensive discoveries and activities to suit all ages. We set ourselves one strict limitation … whatever we put on this list of fun things to do in Joburg won't cost you more than R200 per person.
The costs you see below are subject to change at the organisations' discretion. Contact the organisation directly for the latest prices and information.
Find out what to do in Johannesburg with our list of fun activities that won't cost you the Earth.
Bus about Joburg on a Hop On, Hop Off basis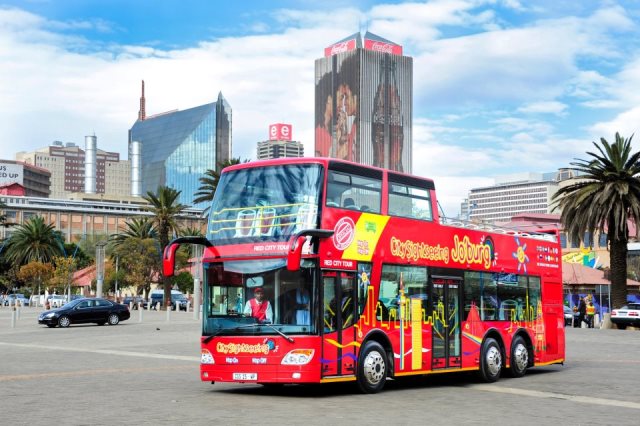 Cost: R150 for a 1-day ticket for the Red City Tour (buy online and save R20).
Like Cape Town, Johannesburg's Red City Sightseeing Bus is your best bet if you're a fresh arrival in the City of Gold. It's also a great option if you're looking for fun things to do in Johannesburg on a budget; for only R150 (that's the price for adults, it's R80 for children aged 5 – 15 and kids under 5 go free), the bus will help you get acquainted with the city on a hop on, hop off basis all the while you can choose to sit on the open-top upper deck or in sheltered comfort underneath while the running commentary introduces you to the urban core of Mzansi.
Contact: 0861 733 287 | View location
Abandon traffic for cold beer at Beerhouse in Fourways
Cost: There's 99 bottle of beers on the wall. Pick your poison … and your price.
Having featured on the things to do in Cape Town on a budget list, there was no way we could exclude colourful Beerhouse from this narrative after it opened in Johannesburg in August 2014. Big, bright and beer-coloured, the Joburg branch occupies an easily accessible location at Pineslopes Shopping Centre on Witkoppen Road. They're already serving up an impressive arsenal of local, international and craft beers to thirsty, traffic-defying masses.
Contact: 011 465 2402 | View location
Painted face cocktail sipping sessions under the African Sun at Moyo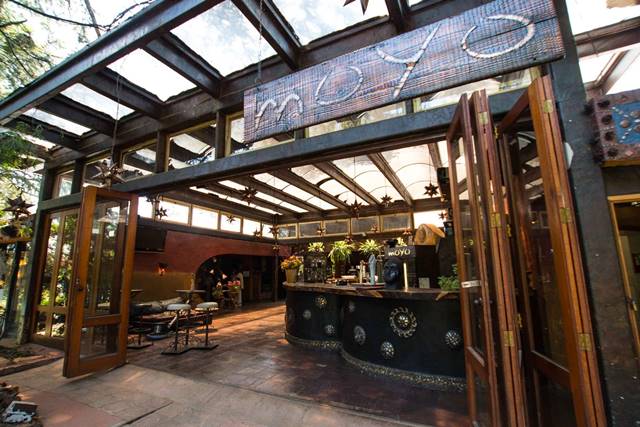 Cost: Varies as per Moyo menu. Starters range from R50 – R70. Salads are R60 – R80.
The face painting waitrons at Moyo are a deft hand at getting you into the spirit of Mzansi with their freehand creations. Situated at Zoo Lake, the Moyo here is a good choice for drinks and eats in one of Joburg's most popular city greenbelts. The relaxed park setting is ideal for kid parties, adult events or just kicking back with a cocktail on the deck. By day Moyo offers a relaxed, family-friendly atmosphere; as the sun sets, fabulous live music sets the tone for an evening of fine-dining and ethnic vibes.
Contact: 011 646 0058 | View location
A-Maize your kids with a laugh a labyrinth in Honeydew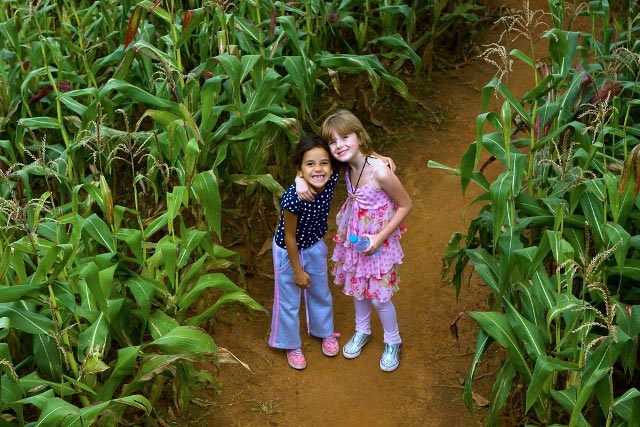 Image by Bill Davies from Flickr.com
Cost: R120 per adult and R80 per child (under 16). Cheaper family rates available.
Honeydew "A-Maize-Ing" Mazes has been around for more than 10 years now and have established themselves as the go-to destination for Johannesburg children's parties and corporate events in the North. Without giving too much away, the main attraction is a giant maze where you can get lost, making your way back to reality by answering a quiz. They're open every weekend and public holidays from 10am to 5pm; last ticket sales are at 2:30pm. Honeydew Mazes welcome picnics. Give the mazes a try … if your employees don't love you for it, your children certainly will.
Contact: 073 795 2174 | View location
Spritz & swim in the city at Poolside, Maboneng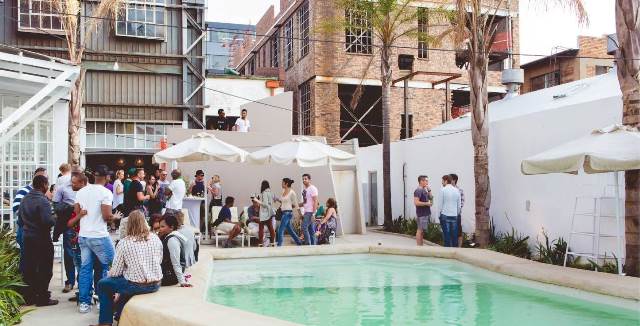 Cost: Food prices range from R60 – R150.
A newcomer, Poolside in the Maboneng Precinct brings al fresco Italiano aperitivo to Joburg's revamped inner city. Aperitivo is Poolside's take on the Italian afternoon ritual of unwinding over drinks and snacks, only they're doing it around a pool in the city all day long. Adding to its sunny allure is the location; tucked away in an unexpected location behind the Museum of African Design expect refreshing drinks (the Aperol Spritz being their flagship) to beat the heat rounded out by a menu of appetizing wooden tasting boards (in the shape of the pool) for two and light meals.
Contact: 082 754 9745 | View location
Get up close to the King of the Jungle at the Lion Park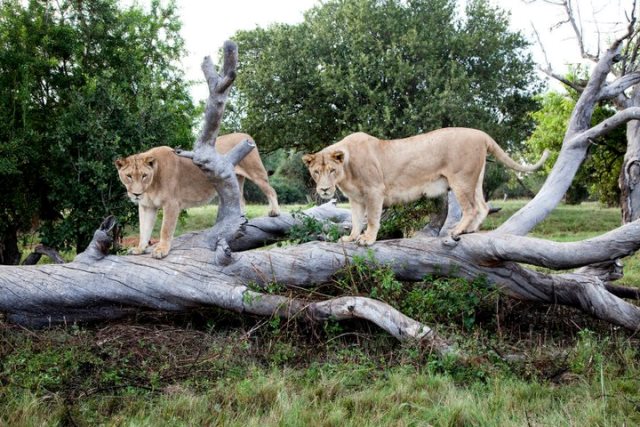 Cost: A range of prices available. Self-drive (including lion cub interaction) costs R200 per adult.
It's been voted the No.1 tourist attraction in Gauteng, as well as making Newsweek's Top 100 Perfect Tourist Destinations in the World list. Open every day of the year from 8:30am to 9pm, the Lion Park guarantees close encounters with some of Africa's most revered species. Home to more than 85 lions, including the rare white lions, and many other carnivores such as cheetah, wild dog, and hyenas, Lion Park is neither a game reserve nor a zoo; providing an opportunity for local and international tourists to learn more about wildlife in a safe environment. The Lion Park also supports research programmes in the wild.
Contact: 087 1500 100 / 011 691 9905/11 | View location
Fulfill you Tuscan dreams at Montecasino, Fourways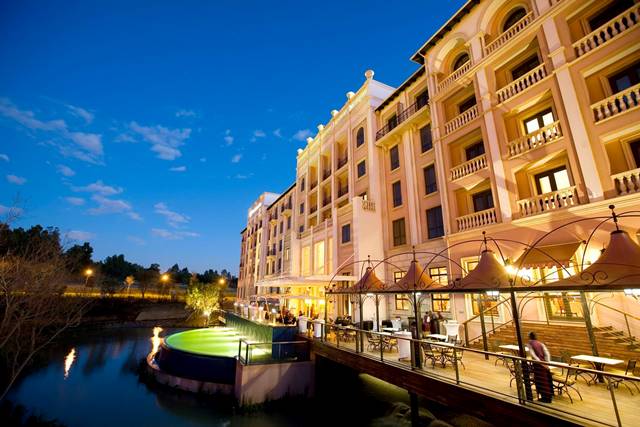 Cost: Entry to Montecasino is free! What you want to spend once you're inside is up to you.
The sky's the limit when it comes to what you're allowed to spend at this glitzy one-stop entertainment complex; however, you'll probably do better to set yourself a guarded budget if you really must chance your arm at the machines in the casino. For those who aren't interested in gambling there's plenty more fun things to do here; enjoy shopping at several specialty stores, have dinner in the sky, visit the Bird Gardens at Montecasino for family fun, feast on the menus of more than 35 franchise and exclusive restaurants, and discover Johannesburg culture at the theatre, movies and Parker's Comedy Club – the home of South African Stand-Up Comedy. All of this and more under one Tuscan encrusted roof makes for an unbeatable indoor entertainment bonanza at Montecasino!
Contact: 011 510 7000 | View location
Go "Bos" at The Bush Paintball Range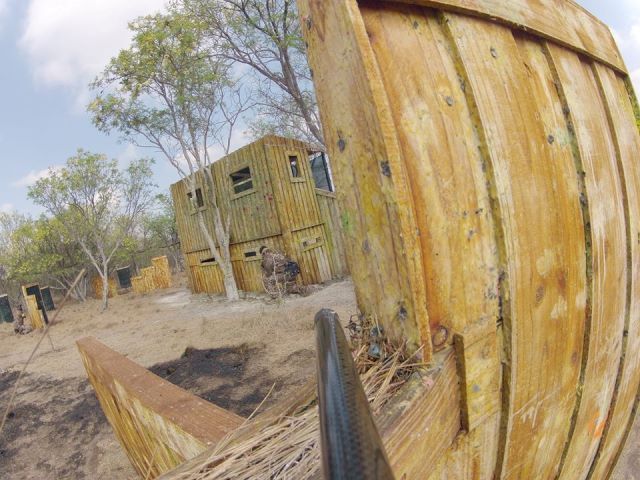 Cost: The standard R120 package is all you need for a 3 hour session.
You'll find The Bush Paintball Range on a desolate plot somewhere between Joburg and Pretoria. If the setting isn't enough to bring out the G.I. Joe in you then the price definitely will be. For just R120 (that's the price of 4 beers in Cape Town), you'll get all the gear needed to get on the range for 3 hours. The Bush Paintball Range consists of 7 fields designed to suit all types of players including heavily bunkered "close quarter" fields for intense, fast-paced play, as well as genuine bushball fields which test a players stalking and bushcraft skills. Bachelors, boys and girls of all ages shouldn't miss this opportunity to run wild on the range – The Bush Paintball is open 7 days a week; call them now to book your war session.
Contact: 084 9111 000 | View location
Spearheading Art in South Africa – The Goodman Gallery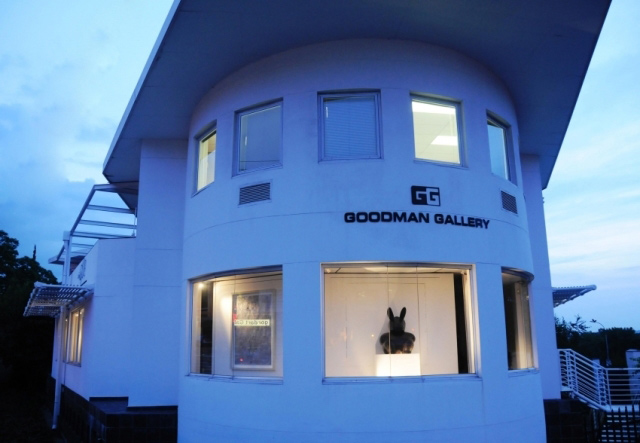 Cost: Entry to The Goodman Gallery is free!
It's fair to say The Goodman Gallery in Rosebank has seen its fair share of action over the years. This is where the controversial "The Spear" painting was once exhibited … and where it was vandalized. Despite the controversies it's maintained its position as a well-respected art gallery around the world, and in South Africa, The Goodman Gallery is at the forefront of contemporary art with major spaces in Johannesburg and Cape Town.
Contact: 011 788 1113 | View location
Tour the home of the Nation's refreshment at World of Beer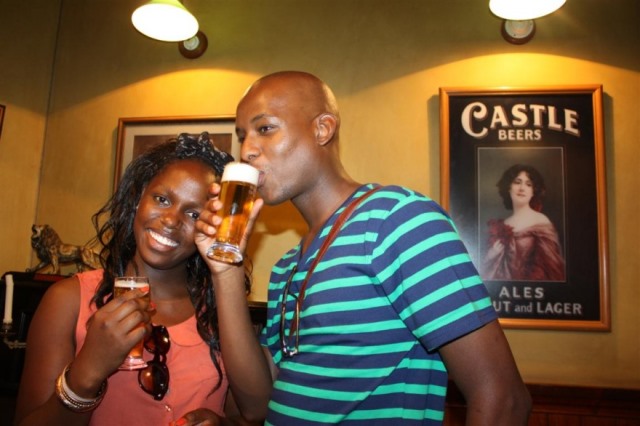 Cost: Adults R65.00 | Pensioners R55.00 | Students (with valid student card) R55.00 | Children (up to 17 years) R15.00.
If beer is something you simply can't imagine living without, then perhaps it's time to get a little closer to the beverage that's been your reliable source of refreshment all this time. SAB has been brewing their brands since 1895, and in the Johannesburg World of Beer tour they pass some of their wisdom, history, and culture on to you. The 90-minute interactive tour makes use of 3D movies, holograms, and massive screens to impart their story; complimentary beers in the Tap Room meet you at the end.
Contact: 011 836 4900 | View location
---
View the updated list of fun things to do in Joburg for 2016
---
Get back to nature at the Melville Koppies Reserve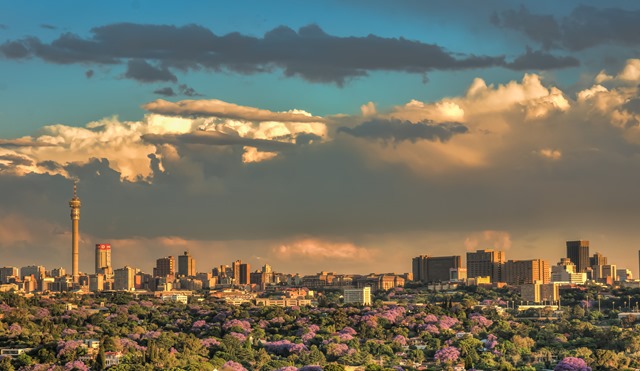 Image by Pascal Parent from Flickr.com
Cost: Free to visit!
The Melville Koppies are part of the rugged Witwatersrand Ridge that runs from west to east through the western and northern suburbs of Johannesburg. The Koppies are a nature reserve and they provide an unusual vantage point from where you can look out over the northern suburbs all the way to the Magaliesberg. If you're looking for free fun things to do in Johannesburg, a visit to the Melville Koppies is a must. There have been sporadic reports of people being accosted in the Koppies, so don't go alone, and avoid quiet times (weekends are your best option).
Contact: 011 482 4797 | View location
Be (er) in your element at The Radium Beer Hall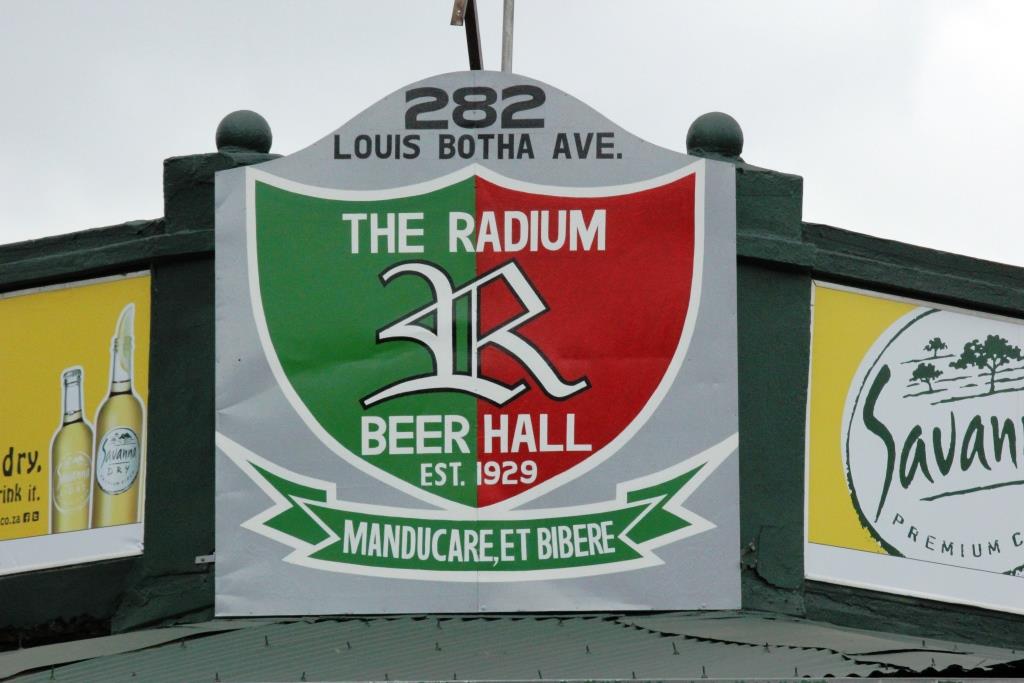 Cost: The Radium's well-priced menu confirms a good time for all under R200.
The Radium Beer Hall is the oldest surviving bar and grill house in Johannesburg. Located on the corner of Louis Botha Avenue and 9th Street in Orange Grove, it's an ideal option for any social occasion with its live jazz and warm atmosphere helping to ensure a patronage that has extended decades. Under the Apartheid regime it was notorious for illegally selling alcohol to black patrons in a predominantly white suburb. Nowadays it's a popular film location, and in the owner's words, it's "the last surviving decent watering hole in Louis Botha Avenue."
Contact: 011 728 3866 | View location
Enter trinket town at Norwood Rooftop Market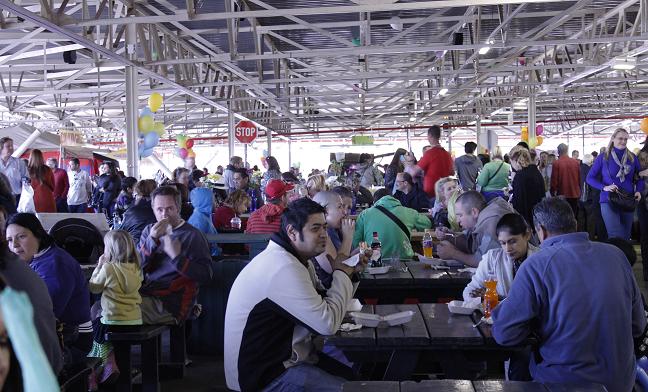 Cost: Free to visit!
Browsing more than 300 lively stalls at this rooftop market won't cost you a penny, and even when you do find something you're willing to cough up for, you can guarantee it will be as competitively priced as anywhere! The Norwood Rooftop Market is the ideal Sunday outing in Johannesburg taking place from 9am to 4pm on the rooftop parking lot at Norwood Mall.
Contact: 011 442 4488 | View location
Take a tour with PAST Experiences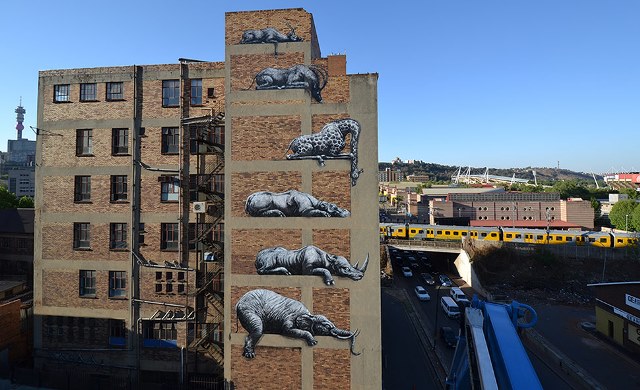 Cost: Prices range from R 120 to R 400 per tour.
Jo and the team from PAST Experiences offer the original Joburg walking tour. They started doing budget walking tours especially aimed at Johannesburg locals in 2009 to get residents into corners of the city they otherwise wouldn't have gone to. From bargain shopping on Smal Street to lunch in Vilakazi Street Soweto, PAST Experiences are all about discovering the city on foot, and their walking tours offer a healthy and alternative way to see far flung corners of the urban sprawl like no other. Jo really knows about what can be found under the skin of Johannesburg; as such her walking tours are bound to put you in touch with the city's peculiarities unlike any guide book could ever do.
Contact: 011 678 3905 / 083 701 3046 (Jo Buitendach) | Meeting point locations depends on which tour you choose
Gold City or Croc City?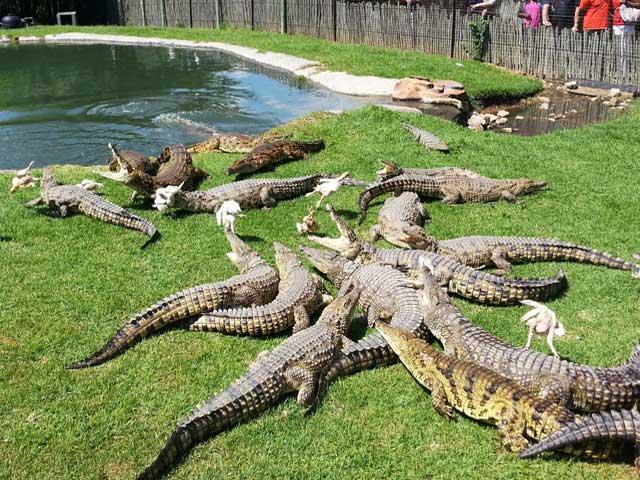 Cost: The entrance fees is R70 for adults, R60 for pensioners and R50 for kids (under 12).
Open everyday, Croc City Crocodile & Reptile Park is on a farm only 5 minutes drive from Fourways and is one of the most exciting places to take your flock this holidays with thrilling activities, delicious food and of course, the creatures. Here you will be given the opportunity to handle a baby crocodile as well as a variety of exotic snakes and even a tarantula. Croc City offers (safe) encounters with some of South Africa's most venomous snakes, including the black and green mamba, boomslang and more.
 After the tour you can relax in the tea garden that serves light lunches or enjoy a special pizza from the Pizza Restaurant, while the kids cavort in the shaded play area.
Contact: 083 321 1016 / 083 657 7561 | View location
Shaft your Mine (d) on thrilling rides at Gold Reef City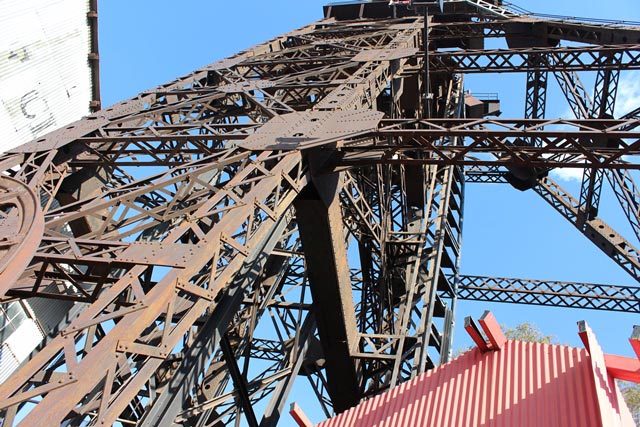 Image by Xander Buys from Flickr.com
Cost: R180 Persons (above 1.3m) | R120 Pensioners above 60 years | R110 Persons (under 1.3m | R140 Students (upon presentation of student card).
The range of prices available to Gold Reef City customers reflects a Johannesburg institution where there is something for everyone! Offering an entertainment extravaganza extreme in the south of Joburg, the amusement park does a lot more than stomach-churning rides. It's located on an old gold mine which closed in 1971, but the mining heritage runs thick through its veins and staff wears period costumes of the 1880s, while the buildings are designed to mimic the same period. It has a 4D movie theatre, animal farm, a mini open air circus, slow train rides around the whole entertainment park, live entertainers and lots of shops and restaurants.
Contact: 011 248 5000 | View location
Experience real pub gastronomy at The Griffin, Illovo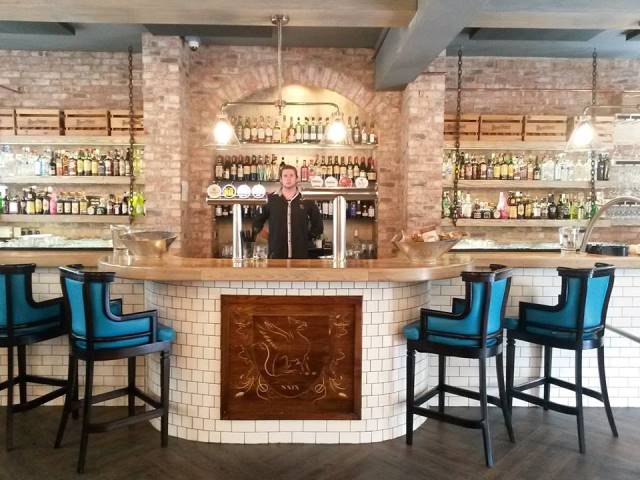 Cost: Craft beers start at R35 for 500ml.
As the craft beer craze continues to sweep South Africa it's no surprise establishments offering the well-heeled beer elixir are as diverse as the artisanal brews. From Beerhouse, a chilled atmosphere, to The Griffin in Illovo – a more sophisticated pint swallowing setting. It's a gastropub, so expect nothing but the best. In their words, "The Griffin Craft Beer Gastropub pays homage to the best beer and wine from home and abroad, while offering beautiful, fresh, seasonal food in the coolest surroundings."
Contact: 011 447 9842 | View location
Swap 5 day games for 70 minute sweat sessions at Action Cricket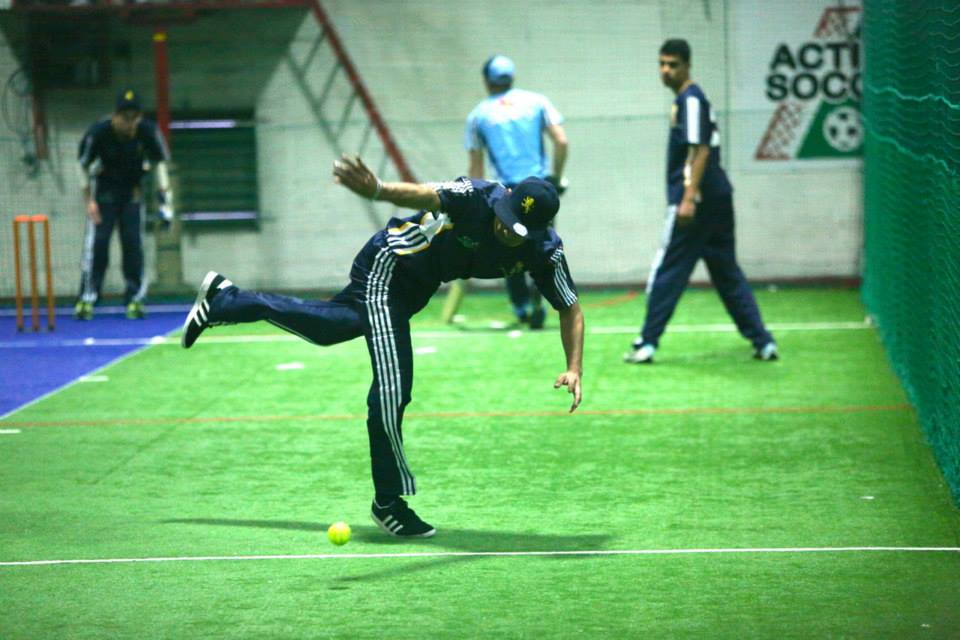 Cost: Action Cricket prices are available on request. You're looking at about R35 p/p for a half-hour practice session and R480 for league games (R480 divided between team members).
When it comes to indoor sports, Action Cricket is a whole new ball game! The Action Sports genre took South Africa by storm in the 90s and it hasn't slowed down remaining the country's premier indoor sport venue. Action Cricket, Action Netball, Action Hockey, Action Sandball and Action Soccer are still some of the fastest growing social activities in South Africa, and in Johannesburg, you're never too far away from an arena. Action Cricket combines fun, fitness and competition, and its simplicity allows people of all ages to play: men women, young old, cricketers and non-cricketers.
Contact: 08611 ACTION (228466) | Action Cricket has multiple arena locations in Joburg
More than a museum! Get in touch with your roots at Wits Origins Centre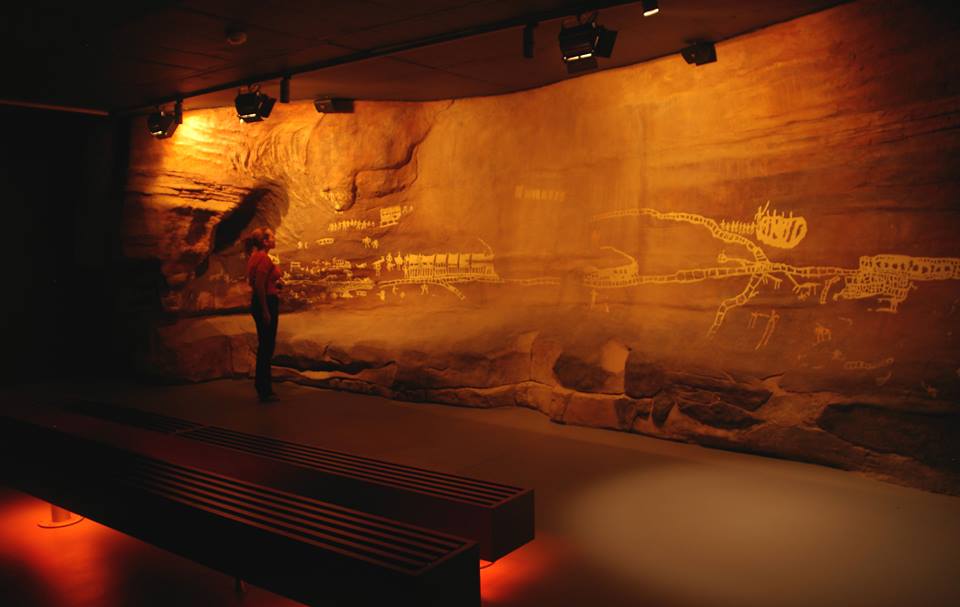 Cost: Adults:  R75 | Seniors & Wits Staff: R60 | University Students with ID: R35 | Children under 12: R35
The Origins Centre, located on the campus of the University of the Witwatersrand in Braamfontein, takes you on an 80 000 year journey from past to present in search of ancient art and culture. This is the world's only museum dedicated to exploring and celebrating the history of modern humankind. The Museum provides visitors with a unique experience of Africa's rich, complex heritage and boasts an extensive collection of rock art from the Wits Rock Art Research Institute. You can even have your genetic heritage traced by purchasing a DNA kit!
Contact: 011 717 4700 | View location
Follow the money at the ABSA Money Museum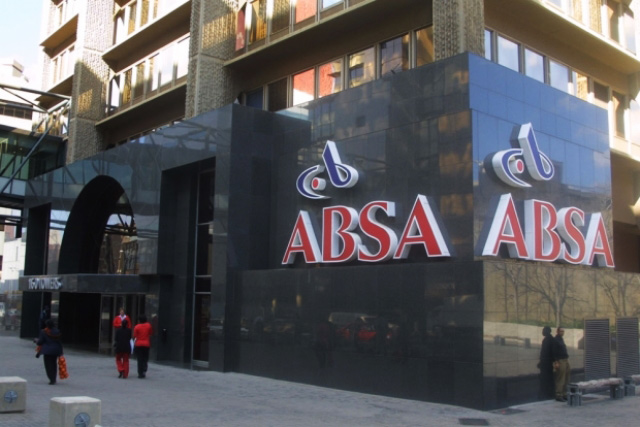 Cost: Access to the ABSA Money Museum is free!
Some will call us cheeky for suggesting that money talks in the power city, but come on … it's more of a compliment than anything. Well now you can really get in touch with your money hungry side with a visit to the ABSA Money Museum. Entry is free (oh the irony!), and it's really worthwhile as you discover our financial history in the stylish Absa Towers West building in the heart of the CBD.
The museum is open Monday to Friday (8:30am – 4pm). Remember to bring your ID for entry into the building. A tour guide is provided for groups (maximum of 15 people and booking is essential), and the Museum also specialises in tours for the hearing impaired.
Contact: 011 350 3003 | View location
Unearth bargain Johannesburg shopping at Oriental Plaza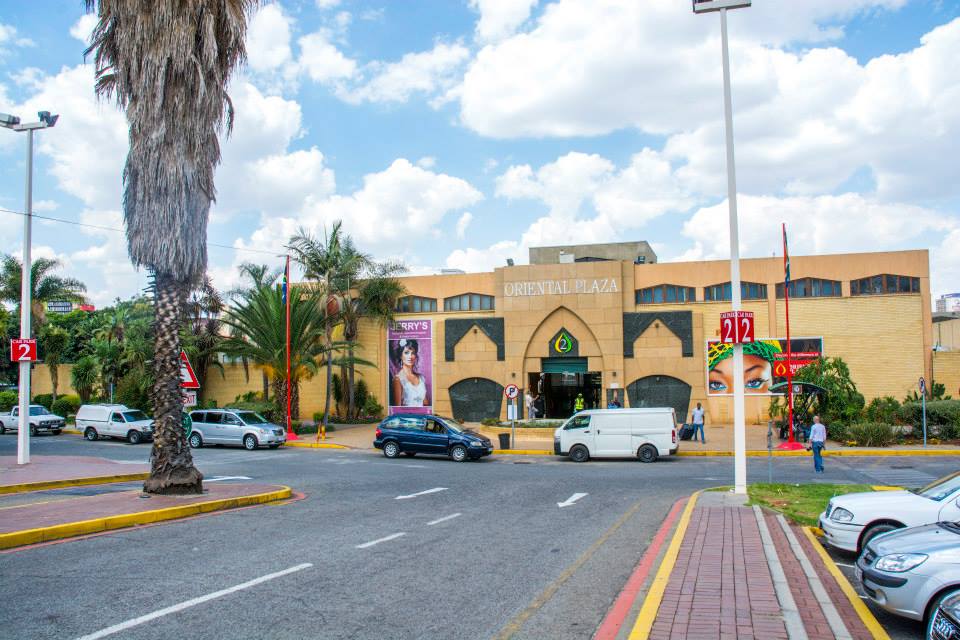 Cost: Prices vary; many bargains to be had for less than R200.
Oriental Plaza has been rooted in the very heart of Johannesburg since the 1970s. In the 360 individually-owned stores you'll find a unique shopping bazaar where the spotlight is steadfastly shone on mountains of bargains … don't be shy to bargain with traders for the best price. The centre has developed a reputation for being the jewelry pricing Mecca of South Africa and continues to offer customers the opportunity to experience high quality, low prices and great variety on fashion, appliance, spices, toys, linen and more.
Contact: 011 838 6760 / 011 838 6752 | View location
Kitchener's Comedy Night every Tuesday at 8pm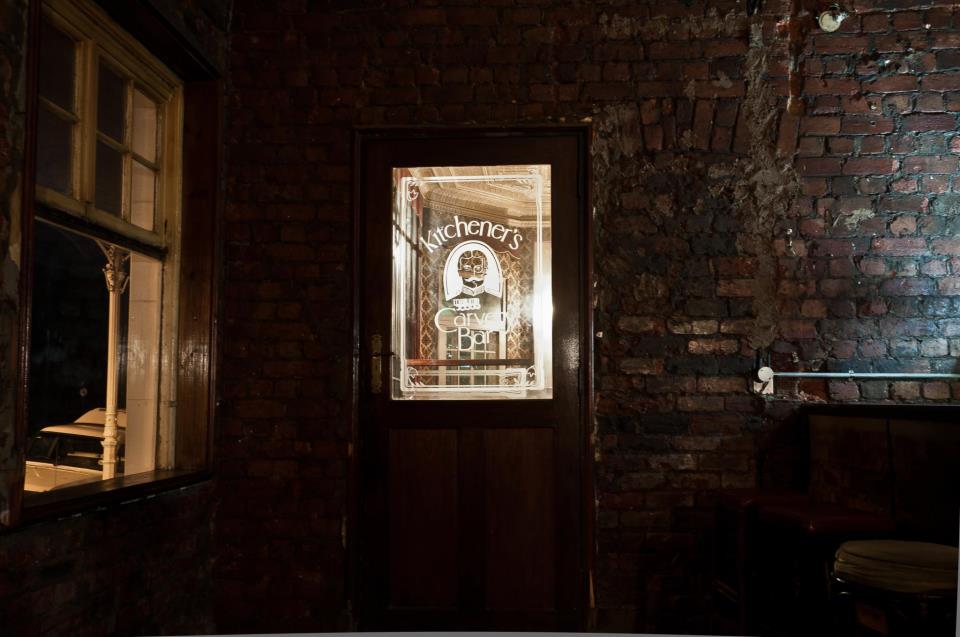 Cost: R20
There's never been a cheaper way to enjoy South Africa's burgeoning standup scene than comedy night at Kitchener's Carvery Bar in Braamfontein. Taking place every Tuesday night at 8pm, R20 gets you in the door for an evening of side-splitting laughter at the hands of South Africa's most renowned and emerging comedic talents.
Contact: 011 403 0166 | View location
Revel in vertical adventures at Orlando Towers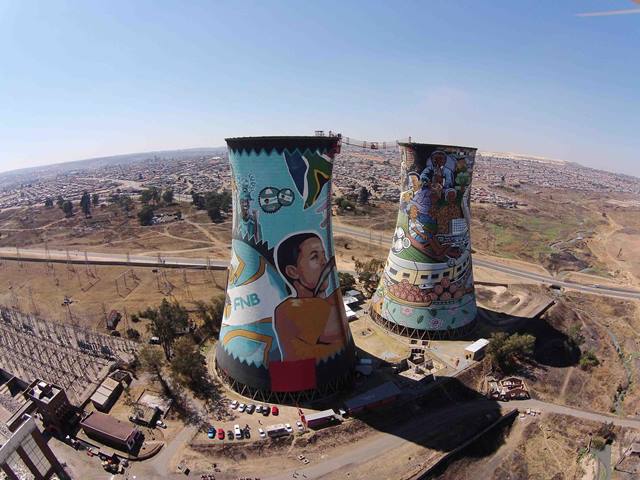 Cost: Climbing: R30 p/p | Paintball: R150 p/p (100 balls)
Soon to be extended to 100m, the 25m outdoor climbing wall at Orlando Towers is the perfect place to challenge your abilities from different angles. The setting is what makes it so great – the Orlando Towers are one of the most distinctive landmarks in Soweto; they're also the site of the world's first bungee jump between two cooling towers. There's also bungee jumping (R480), the power swing (R360) and abseiling (R260) if your budget and heart condition allow.
Contact: 071 674 4343 | View location
Tap your inner Tiger at World of Golf in Midrand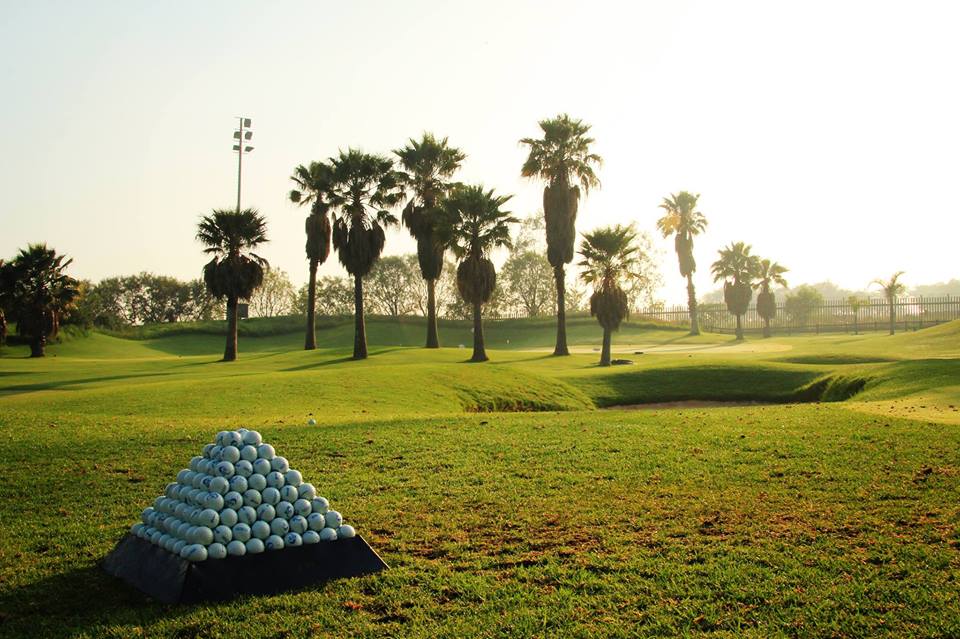 Cost: The daily rate for non-members is R139.
The Momentum World of Golf was developed to help golfers (and non-golfers) realise their dream of being able to practice every shot imaginable. Think of it as some kind of fantastical golfing theme park where you can practice your swing and improve your game in peace. R139 gains non-members entrance and access to all facilities except the fitness centre and grass tees.
Contact: 011 545 8600 | View location
Take your holiday on ice at the Northgate Ice Rink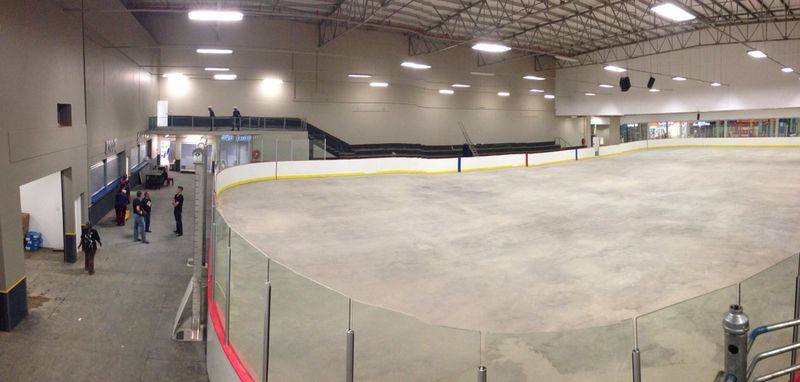 Cost: Entrance fee: R55 | Skate hire: R25
The Northgate Shopping Centre ice rink is the only place you'll want to be to cool down in the Jozi heat this summer. Practice your waltz jumps, toe loops, and axels in the chilled Northgate Ice Arena – it's a pretty cool hangout and great exercise! The Northgate Ice Rink often have awesome events such as foam parties and celebrity bands/DJs so make sure you're in the loop to find out when the next cool event is happening.
Contact: 011 794 8706 | View location
Browse Bruma Market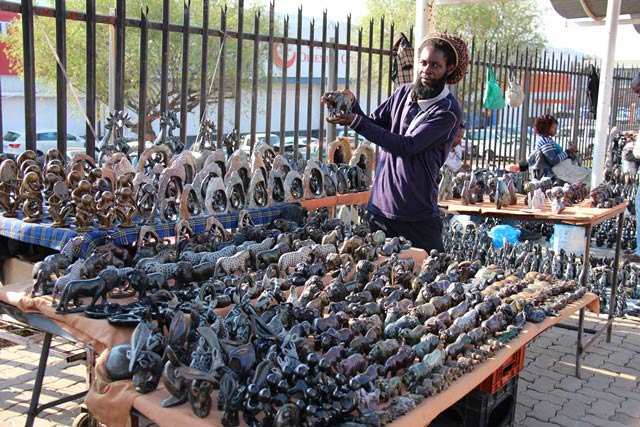 Cost: Free to visit!
The new Bruma Flea Market (the old one closed in 2012) offers a wide range of arts and crafts from South Africa and other African countries. Browse the stalls of over 50 merchants presently peddling their wares along Oppenheimer Street in Bruma. Handcrafted bead work, wood crafts, wire art, stone sculptures, African clothing and leather souvenirs are all available, and the traders at the flea market are keen to tell you the stories behind the items they are selling.
Contact: 011 622 9648 | View location
Sniff flowers for Africa at the Multiflora Flower Market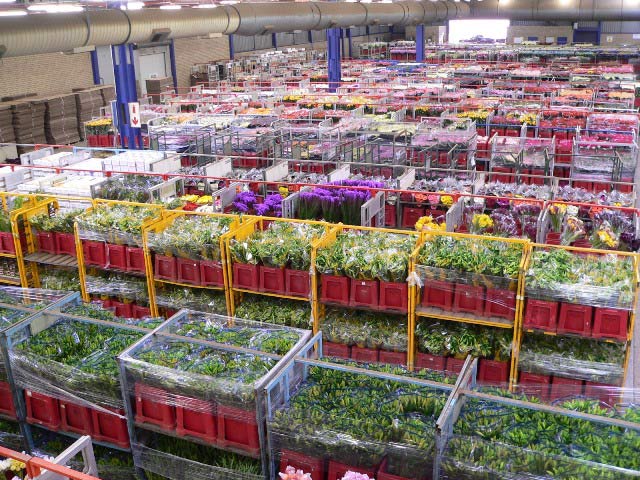 Cost: Free to visit!
A world of colour and scents collide at the Multiflora Flower Market south of Johannesburg where you will find the freshest flowers in the country  … it's a beautiful sensory assault. The 50 000 square metre specialised flower warehouse sees some 300 million flower stems pass through its doors annually. This translates into an astounding 1 million flower stems a day in just three to four hours! Private shoppers are welcome to browse through the largest flower market in the Southern Hemisphere.
Contact: 011 613 4011 | View location
Journey to the 'Top of Africa' at the Carlton Centre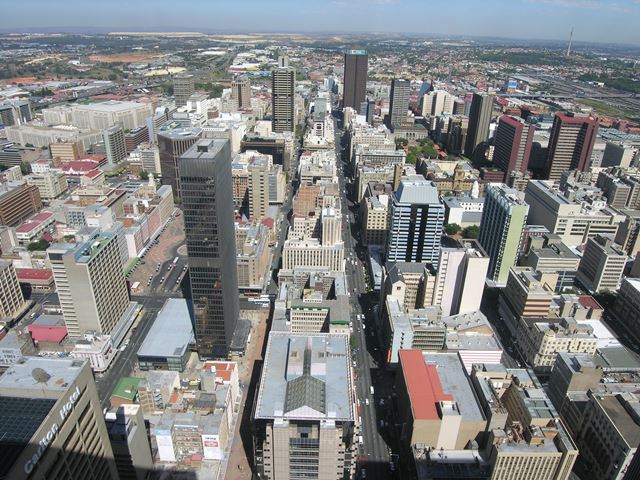 Image by Chris Eason from Flickr.com
Cost: Adults: R15 | Children under 12: R10
At 223 metres, the view from the top of the Carlton Centre promises a unique, uninterrupted vantage point to enjoy the sights and sounds of downtown Jozi from. Even though it has been the tallest office building in Africa for the past 41 years, the Carlton Centre was once the tallest building in the entire Southern Hemisphere and the 50th floor, the topmost floor of the Carlton Centre, is known colloquially as the "Top of Africa".
Contact: 011 308 1331 | View location
Keep the kids entertained at the Sci-Bono Discovery Centre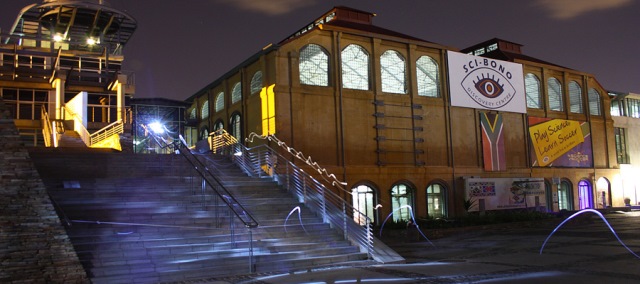 Cost: Children: R20 | Adults: R35 | Children under 3: free | Pensioners and students (with a valid card): R20
The Sci-Bono Discovery Centre in the Newtown district of Johannesburg is an excellent facility for keeping kids entertained, especially in inclement weather. The centre, which is housed in a repurposed power station, aims to popularise science by presenting it in an accessible manner. It's a great venue for kids' birthday parties. The Sci-Bono Discovery Centre is open from 9am – 4:30pm seven days a week and the entrance fee is a very reasonable R20 for children and R35 for adults. There is ample free, secure parking at the front of the building. You can easily walk to other Newtown attractions such as the Market Theatre and World of Beer.
Contact: 011 639 8400 | View location
Blow your Vuvuzela in peace with like-minded peeps – catch a game at the FNB Stadium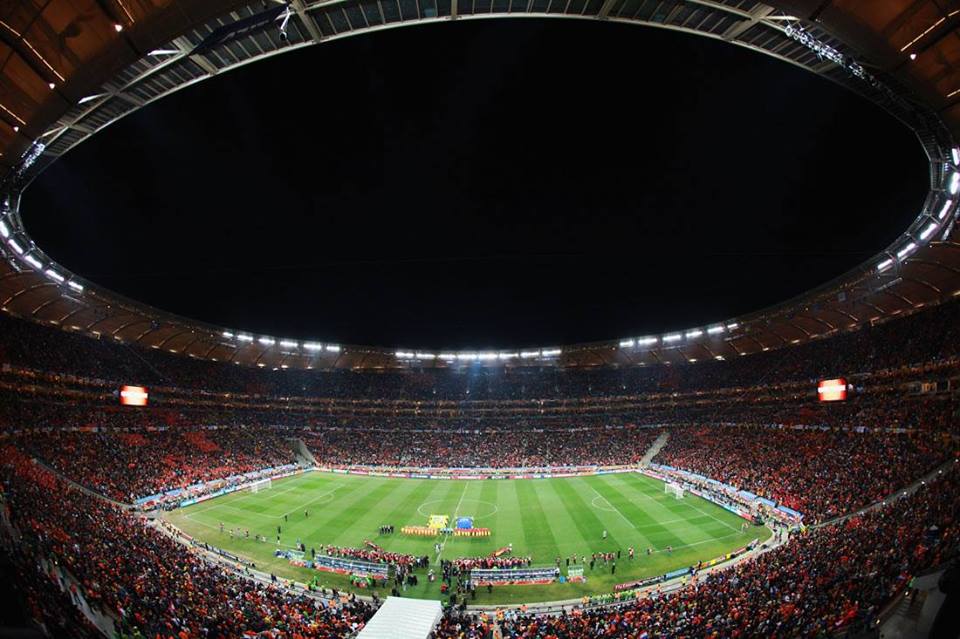 Cost: FNB Stadium event prices vary. You can catch Kaizer Chief fixtures for as little as R10 – R40 per match.
The stadium that wowed the world in 2010 is so grand it has more than one name. Officially known as FNB Stadium, you can also call it Soccer City and 'The Calabash'; it is the flagship venue for major games, concerts and events in South Africa thanks to its 95 000 capacity. The stadium is the home ground of Kaizer Chiefs F.C. and the South African national football team – catch a game here and your ears will never be the same again but the atmosphere will be worth it.
Contact: 011 247 5300 | View location
Get green belted at the Johannesburg Botanical Garden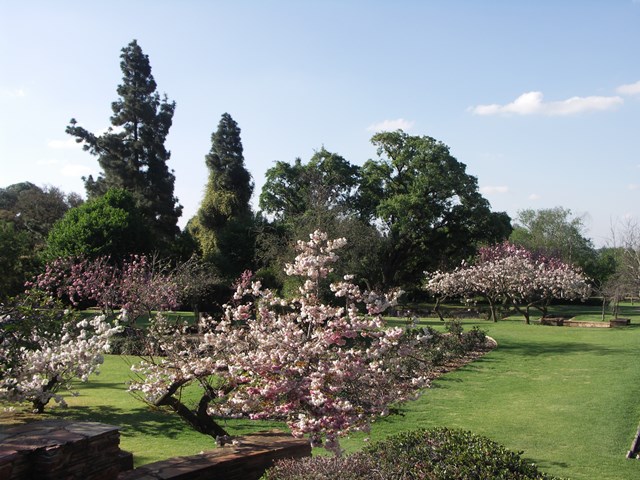 Cost: Entry to the Johannesburg Botanical Gardens is free!
One of the city's most sought after public spaces, the Johannesburg Botanical Garden is popular with joggers and picnickers, and photo-opp seeking newlyweds. Hot off the heels of a visit to the Botanical Gardens, why not combine the time and visit Emmarentia Dam in the same breath? The dam occupies a significant portion of the 81 hectare gardens and is the ideal spot to chill in summer when rowing, fishing and concerts at the dam are just some of the activities that are part of the program.
Contact: 011 712 6600 | View location
---
Although the appropriately named City of Gold resides in the wealthiest of South Africa's nine provinces, it was easy finding fun things to do in Johannesburg on a budget. Give the urban jungle a chance and you'll discover more fun things to do in Joburg than you'd ever imagined!
Let us know what to do in Johannesburg on a small budget below or join the discussion on our facebook page.
Not finding your vibe in Joburg? Check out www.helloweekend.capetown for loads of ideas of what to do on weekends in the Mother City where there is always something on. Book your flights on the new Flapp App.
The post 31 Fun Things To Do In Johannesburg Under R200 appeared first on Travelstart Blog.