Make the most of the South African public holidays in 2018
As you polish off the last of the Christmas pudding and head back to work feeling refreshed and ready to tackle 2018, the last thing you're thinking about is your next holiday, right? Wrong. If you haven't yet marked off this year's public holidays on your calendar, now is the time to do so. And, on the off-chance you haven't already noticed, if you're craving a little extra time off this year, you're in luck!
By planning your leave wisely, you can score yourself a few extra days of holiday around our national public holidays this year. Whether you're into adventure sports, music festivals, cycle races, arts festivals, gourmet food and wine shows, or simply camping out under the stars – we've put together a few events on this year's calendar that you can look forward to.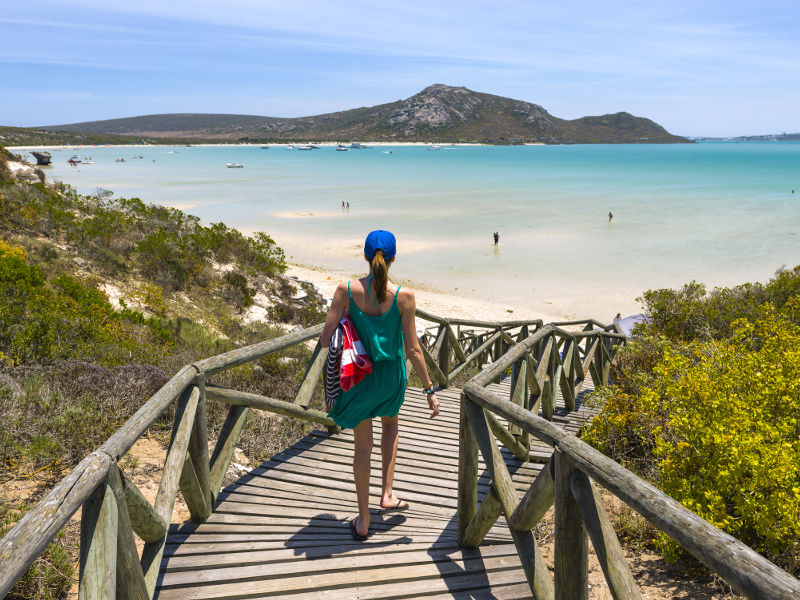 The months of March and December offer the most opportunity for spreading your wings across the African border. A 10-day trip in March is a perfect way to extend your summer. Why not book a flight to one of our top international destinations, like Amsterdam, Lisbon or Bangkok? Fancy sunning yourself on the beaches of Mauritius? We've got great flight specials for that, too!
With December offering you a whopping 20 days off, you'd be silly not to take advantage of a holiday abroad! Start your festive season early in December with cheap flights to Frankfurt and Prague for a white winter wonderland. For a warmer holiday break, discover a world of culture in the sacred temples of Siem Reap (Cambodia) and the jungle forest retreats in Kochi (India).
For more inspiration on international travel spots, see our top picks on where to go each month of the year.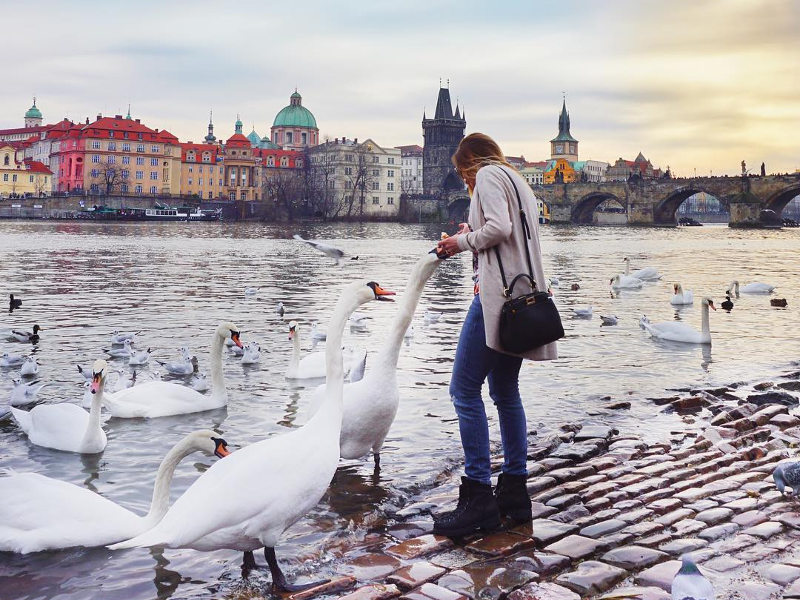 If you'd prefer to keep it local, South Africa is brimming with festivities, no matter which city you find yourself in. Whether you're hoping to rock out to the electro sounds of Jozi or just catch a few waves along the incredible beaches of Cape Town and Durban, take a short getaway and make the most of the public holidays this year. Cape Town bristles with excitement between January and April, with festivals galore. Wine connoisseurs and foodies will be delighted to know there is plenty to explore along the outskirts of the city. Why not go on a weekend road trip and discover some unique wine farms around Cape Town? A road trip up the Garden Route is always a winner, and Knysna, in particular, is jam-packed with activities between May and July, with its Whale Festival in full swing come September.
As they say, the early bird catches the worm, so start planning now!
January
25-28th: Up the Creek Music Festival – Swellendam
27th: Sun Met Horse Race – Kenilworth, Cape Town
27th: Wellington Wine & Food Festival – Waitangi Park, Wellington
February
9th: Ultra South Africa – Cape Town Stadium (and at Nasrec in Johannesburg on the 10th)
10th: Saggy Stone Music & Beer Festival – Amandalia Farm, Robertson
23-24th: Clarens Craft Beer Festival – Clarens, Free State
29-01st March: Splashy Fen Music Festival – KwaZulu-Natal
March
11th: Cape Town Cycle Tour
23-24th: Cape Town International Jazz Festival – CTICC
29-04 April: Klein Karoo National Arts Festival (KKNK) – Oudtshoorn
30-08 April: The Rand Show – Johannesburg
April
07th: April Fools & Fans Beer Festival – Greyton, Western Cape
23-29th: AfrikaBurn – Tankwa Karoo National Park, Northern Cape
26-01 May: Suidoosterfees Arts Festival – Artscape Theatre Centre, Cape Town
May
18-19th: Arts Alive – Johannesburg
24-27th: Pink Loerie Mardi Gras & Arts Festival – Knysna
31-03 June: Wacky Wine Weekend – Robertson, Western Cape
June
27-30th: Inniebos Arts Festival – Nelspruit
28-08 July: Grahamstown National Arts Festival – Eastern Cape
30-01 July: Knysna Cycle Tour
July
07th: Durban July – Greyville Racecourse, Durban
14-15th: Franschhoek Bastille Festival – Franschhoek
26-29th: Photo & Film Expo – Johannesburg
August
03-05th: Slow Food & Wine Festival – Robertson Wine Valley
08-12th: Decorex – Gallagher Convention Centre, Johannesburg
10-12th: Klein Karoo Klassique Arts Festival – Oudtshoorn
September
21-24th: Hogsback Festival of Trees & Eco-Week – Terra-Khaya Backpackers, Hogsback
22-07 Oct: Cape Town Fringe Festival – venues around Cape Town
27-30th: White Mountain Festival – Giant's Castle, KwaZulu-Natal
28-30th: Hermanus Whale Festival – Hermanus, Western Cape
October
04-07th: OppiKoppi Festival – Limpopo / Rocking the Daisies Music Festival – Darling, Cape Town
13-14th: Barrydale in Bloom Open Gardens Safari – Klein Karoo, Western Cape
27-29th: Good Food and Wine Show – Durban
November
06-09th: Joburg Art Fair – Johannesburg
09-11th: FNB Whiskey Live Festival – Johannesburg
24-25th: The Port Elizabeth Wine Show – Boardwalk Convention Centre, Port Elizabeth
December
15-16th: Beer, Wine & Whiskey Festival – Durban
Between 15-22nd: Mother City Queer Party (MCQP) – Cape Town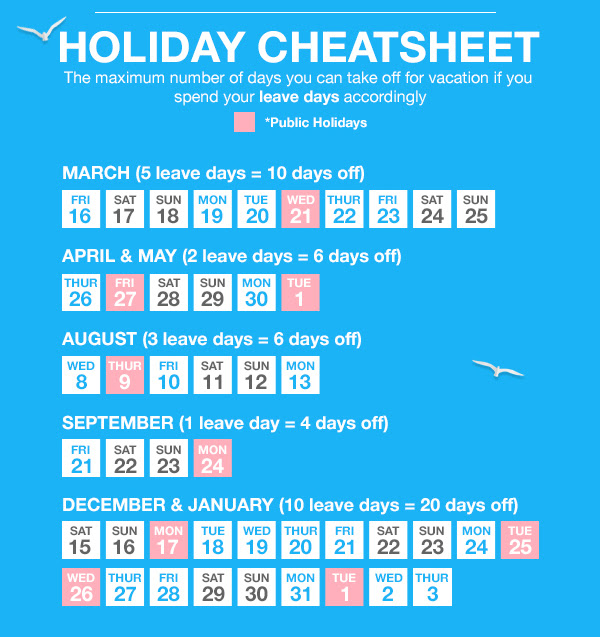 Before heading off though, here are a few tips to keep in mind when travelling over long weekends and public holidays:
Be patient – be prepared for long queues, heavy traffic and crowded facilities. Being polite and staying calm goes a long way.
Plan your trip – beat the traffic and leave early or later in the day, if you're going on a long road trip. It may be wiser to leave a day sooner or later to avoid heavy traffic.
Book in advance – be smart and book hotels, tours, activities and festival tickets at least 1-2 months in advance to avoid disappointment or paying higher rates.
Compare multiple accommodation options to find the best deal – some resorts offer discounted packages if you book ahead of time.
Keep the little ones occupied – pack in plenty of games and activities. Prepare healthy snacks above sweets and fast food to avoid a sugar buzz on your trip. If you're flying to your destination, read up on our useful tips on flying with children.
Take the paths less travelled – why not skip the crowds and explore some places off the beaten track? If you're in a theme park or museum, rather start your tour in the opposite direction to everyone else to avoid standing in queues.
Let us know what you plan on getting up to with all these extended public holidays coming up this year!
Image Credit:
mirona_radu via Instagram
The post Make the most of the South African public holidays in 2018 appeared first on Travelstart Blog.